Website Art Gallery
Since the creation of Decennial Gothica Radio, the website graphics have been updated regularly. At first it was a simple logo, which then evolved into the now-familier flaming Roman numeral X logo set within the ouroboros. The graphics then took on a larger theme, often involving a "DecenniGirl" model set into a background that suggests hints of a story that teases the viewer. Sometimes the model was a DJ or friend of the station, or a professional model photographed by DJ Silvae. Other models were listeners who sent in photos for us to use, while the rest were professional models photographed by full-time photographers. The backgrounds are often photographs taken by DJ Silvae from his travels.

And for those wondering about our motto "Ten Years of Gothic and Symphonic Metal," this originally referred to the fact that we only played songs from the last decade (also referenced by the station name "Decennial.") However, we quickly strayed from this formula because there are SO MANY AWESOME SONGS from more than a decade ago, and the longer the station existed, the more songs we would have to stop playing. So today, while we maintain a focus on songs produced within the past 10 years, we gleefully play songs from any time, even an occasional track from the primordial days of Gothic history, like Bauhaus and Sisters of Mercy.

This gallery contains almost all of the retired versions of the website graphics. Some graphics are not included, such as holiday graphics or temporary graphics that showed solidarity and support for important causes. So enjoy the graphical history of Decennial Gothica Radio!

Also, would you like to be featured on a future version of our website? See the bottom of this page for more info!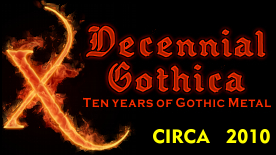 ---

---

---

---

---

---

---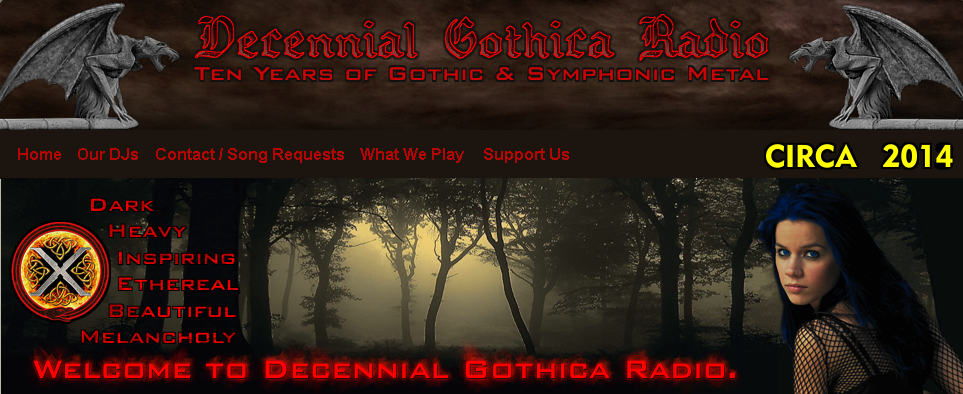 ---

---

---

---

---

---

---

---
---

---

---

---
Are you a model and want to be the next DecenniGirl, seen by tens of thousands of people from around the world? Or just think it might be fun to see yourself on our website? Shoot us an email at DecennialGothica@gmail.com, tell us who you are and include one or more photos of you that you have the right to grant non-exclusive permission to us to use on our website. We'll consider your photos when we redesign the next version of the website! If we choose your photo, we will get in touch with you so make sure to include contact information.